Inaugural 'Mississippi – A Data Driven State Data Summit' announced
---
Tuesday, September 13, 2016

Jackson, MS -- Today the Mississippi Department of Employment Security and Mississippi State University's National Strategic Planning and Analysis Research Center (NSPARC) announced Mississippi's inaugural Data Summit, scheduled for Friday, September 23, 2016 at The Mill at MSU Conference Center, 600 Russell Street in Starkville, MS.
DATA is a number one buzz word and the 2016 Data Summit will include new strategies, tools and solutions to drive ROI for your data initiatives – whether you are a local, regional, or state planner.
This forum will explore and highlight opportunities and organizations active in the area of economic, civic and educational success and identify effective ways to bring together professionals, industry experts and leading researchers in the field of data analytics.
The 2016 Data Summit will feature speakers including Lt. Gov. Tate Reeves, members of the Mississippi Legislature, and state agencies. The event is hosted by the State Longitudinal Data System, known as LifeTracks, of which Mark Henry, executive director of the Mississippi Department of Employment Security, is the vice-chair. NSPARC manages LifeTracks for the state of Mississippi, and is coordinating the event. Mississippi is proving to be a leader in the nation to be first in technology and claiming the honor as a data driven state.
The goal of the 2016 Data Summit is to educate those involved in planning for education, workforce development and economic development about different data sources available in Mississippi.
"The foundation for sound decisions is reliable data," said Henry. "The Data Summit will inform policy makers about how to obtain that data from LifeTracks and other innovative sources."
"The Data Summit will showcase the ways Mississippi leads the nation in using data," said Domenico "Mimmo" Parisi, professor of demography and applied statistics in the sociology department and executive director of NSPARC at Mississippi State University. "From building the nation's most comprehensive state longitudinal data system to making data an integral part of cost-effective decision making, Mississippi is ahead of the pack when it comes to data informing policy."
Plan to attend the 2016 Data Summit if you work with smart data technologies or analytics initiatives. Learn more about the data leaders in the state of Mississippi and forward-thinking approaches to using data to solve problems and increase competitiveness in education, workforce development, and economic development.
For information on this data summit or to make a reservation to attend the free event, please contact Libbi Bryant @ nsparc.msstate.edu or call 662-325-9242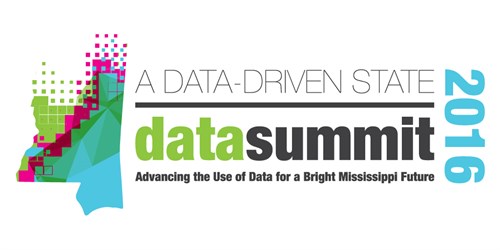 ---

MDES Contact
Dianne Bell: dbell@mdes.ms.gov
Communications Director    

OR

NSPARC @ Mississippi State University
Carol Gifford: cgifford@nsparc.msstate.edu
Phone (662) 717-1065
Communications Manager