Mississippi Consortium Update – A Well-Oiled Machine
---
July 12, 2018
Jackson, MS --- Mississippi and TATA Consultancy Services (TCS) have partnered over the past 13 years to produce the most advanced unemployment benefits and tax system in existence. 
In 2013, MDES partnered with Maine and Rhode Island to create a consortium to operate all of the states unemployment systems into a single, multi-tenant cloud-hosted system, capable of accommodating each state's unique characteristics.  Since then, the state of Connecticut joined this Consortium in 2017.  Mississippi's benefits and tax systems are now fully deployed, stabilized, and functioning like a well- oiled machine.
On Tuesday June 19, MDES and TCS participated in a handoff ceremony, signaling the successful development and stabilization of this technological advancement.  As a part of this ceremony, Jai Saini, TCS Project Director for ReEmployUSA, officially handed off the "Keys" to the system to Timothy Rush – Director of the Office of Reemployment Assistance, the "Tools" were handed to the Technology Support Help Desk, and accepting the tools was Mohammed Jalaluddin, Director of Technology Support & Innovation for the agency. Behind the scene was unifying support of John Garrett – General Counsel, and Tommy Jameson – Director of Contact Center Operations for MDES.
Staff involved in the event was admonished to use the system as they would their personal automobile which means, ReEmployMS has many features like an automobile. Each is made for a purpose, and should be used to enhance the experience of operating the system. When it breaks, they notify the service technicians, (the Help Desk) for service and repair. 
Since final deployment in September 2017, during the stabilization period, the system has been through more than three calendar quarter cycles of production operations and all the annual processes the system will encounter.
---
Initial Claims: 36198
Number of Paid Weeks: 276,624
Total Net Amount Paid: 52,222,988
---
Number of Taxes Collected & Total Taxes Collected:
COUNT: 161,802
TOTAL: $72,245,190.51
---
Number of Wages Collected & Total Wages Collected:
Count: 165,027 with a total amount of $31,912,175,869.11
---
The work of the ReEmployUSA Consortium, ReEmployMS, and TCS has been thoroughly tested and is found to be successful and stable. 
Dale Smith MDES,
Deputy Executive Director
---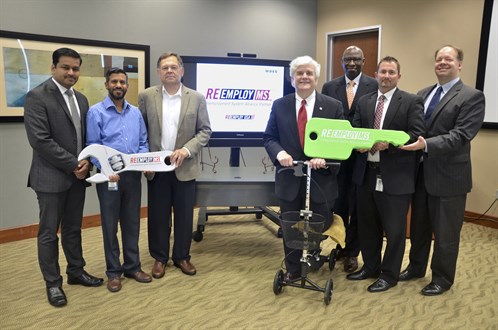 Titles for photo (left to right):

Jai Saini, TCS Project Director for ReEmployUSA; Mohammed Jalaluddin, Director,Technology Support & Innovation; Dale Smith, Chief Operating Officer; Mark Henry, Executive Director; Timothy Rush, Director, Office of Reemployment Assistance; Tommy Jameson, Director, Contact Center Operations; John Garrett, General Counsel – all of MDES.
Note: For a high resolution copy of this photo, please click the image above.